WordPress Website Development Services from the Experts
We use WordPress to deliver cost-effective and user friendly websites.
Undoubtedly it is the most popular web development platform for SMEs. With great availability of extensions (free and paid) you can achieve anything with zero or absolute no customization, it results in low cost and less time compared to other technologies (CMS/Frameworks).
It is very efficient Content Management System (CMS), has the very powerful and user friendly admin panel.
A beginner or a non-technical user can easily manage all the content and monitor everything with no or very less support.
Website Development from Scratch
Based on your need we create a brand new, attractive design and provide you all required functionality. This is basically a theme development task and results in a Unique Website (in terms of design and functionality).
This gives you the brand identity and keeps you edge ahead of your competitor and attract more customers.
Website Development using a Pre-built Theme
If you have any budget constraints OR having a very straight forward/standard requirement?
Then this could be the good option for you, as we can suggest you a prebuilt theme to save a lot of designing and functionality development time. You would be only charged for setup and some minor customization/tweaks.
Only con of this method is the publicly available design. This might be possible that your competitor or any other individual could also use the same design. So Uniqueness won't be guarantee here.
Extension/Plugin Development
We can develop any extension to cater your specific need. Excellent quality of documented code will be provided. This could either be for professional (multiple sites) or just personal (one site) usage.
WordPress Multisite Support
WordPress Security and Backup
Custom Plugin Development
WordPress Theme Development
Website Speed Optimization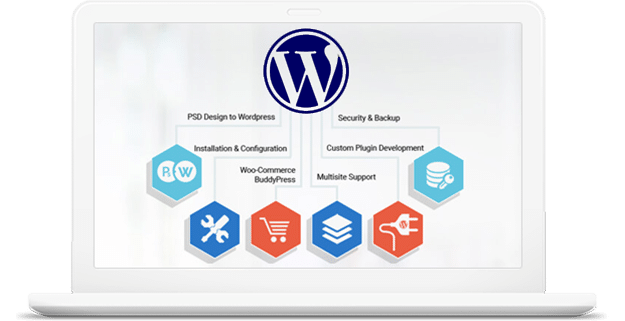 Website OR Extension Customization
If you require any customization in designing or functionality of your website, we would be there to help you at any point of time.
We can also customize any of the required plugins to meet your expectation.
Code quality would be excellent and documentation could also be provided.
Redesigning OR Re-branding WordPress Website
If you are not happy with the current designing or user experience of your site, we can help you with an eye-catching design and great user experience.
Functionality could be the same or you always have the option to go for development from scratch (Design+ Functionality).
This will give your website a new identity and would be re-branding for you.
Website Optimization (Speed and Performance):
We can optimize your website for better speed and performance.
We can improve loading time of site, fix any code issues, compress or re-write various elements of code like CSS or JavaScript.
Also UI related issues can also be fixed by our expert UI developers.
Ecommerce/WooCommerce Integration
If you have existing website OR need a new ecommerce shop to manage your online orders, we would be right partners for you!!
We can integrate ecommerce feature to your existing site without affecting any existing features.
Also have the capability to give you a fully optimized ecommerce site using WordPress (WooCommerce).
WordPress Website Maintenance
We offer maintenance packages as well to keep your site up-to-date. This includes timely upgrades and security look ups for the smoothness of your website and business.
WordPress Website Upgrade Services
In our Website Upgrade service, we not only upgrade the standard plugins and themes but also help you with the upgrade of any custom theme or plugin.
We ensure there would be no data or code lose so your site can function perfectly and more efficiently.
Migration to WordPress from any other CMS
If you want to upgrade your existing site OR would like to enhance it with new features then switching to WordPress could be the best option for you.
We can migrate your website to WordPress with all the content (Products, Customers, Orders and all other details.)